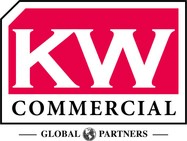 CONTACT:
KW Commercial:
980 Harvest Dr
Suite 200
Blue Bell, PA 19422
Office: (215) 664-1091

Phone: (215) 651-2980
Agent Website
Kevin M. Cain, SIOR, Commercial Leadership Council
Managing Director
Moving into his 31st year in the commercial real estate world, Kevin M. Cain, SIOR and Keller Williams Commercial (KWC) Northampton County ( Bethlehem, PA) partnered in January 2015 to provide quality brokerage services to clients of the Lehigh Valley, state of Pennsylvania, and beyond. The partnership brings together KW Commercial, a national real estate brand with a strong portfolio of cutting-edge analytics tools, software and other resources, and Mr. Cain, a veteran Commercial/Industrial/Investment real estate advisor/consultant.
Mr. Cain founded Capstone Real Estate Group, LLC in 2008 and prior to that spent 18 years with Brode & Brooks, Inc., a Montgomery County PA-based, full service commercial real estate company. His real estate experience is broad based as a broker, developer, advisor, and asset manager providing selling, leasing, and consulting services to individuals, public and private institutions, as well as Fortune 500 corporations. While at B & B, he was consistently a top performer, earning awards for the largest dollar volume transactions in the years 1995, 1996, 1999, 2001, 2002, 2003 and 2005. In 2003, Kevin was recognized as a top outside agency producer by Liberty Property Trust, one of the nation's leading REIT's, and was featured in the NJPA Real Estate Journal in the SIOR Membership Spotlight section. In conjunction with his duties at B & B, Inc., Kevin was also a partner in the Brode/Brooks/Cain Partnership, an investment real estate group that focused on the acquisition, redevelopment, leasing, and property management of existing industrial and office real estate, and vacant ground. Kevin was formally inducted into the Society of Industrial & Office Realtors (SIOR) in 2000.